Best Print on Demand Sites for Photographers - FineArtAmerica vs Vsual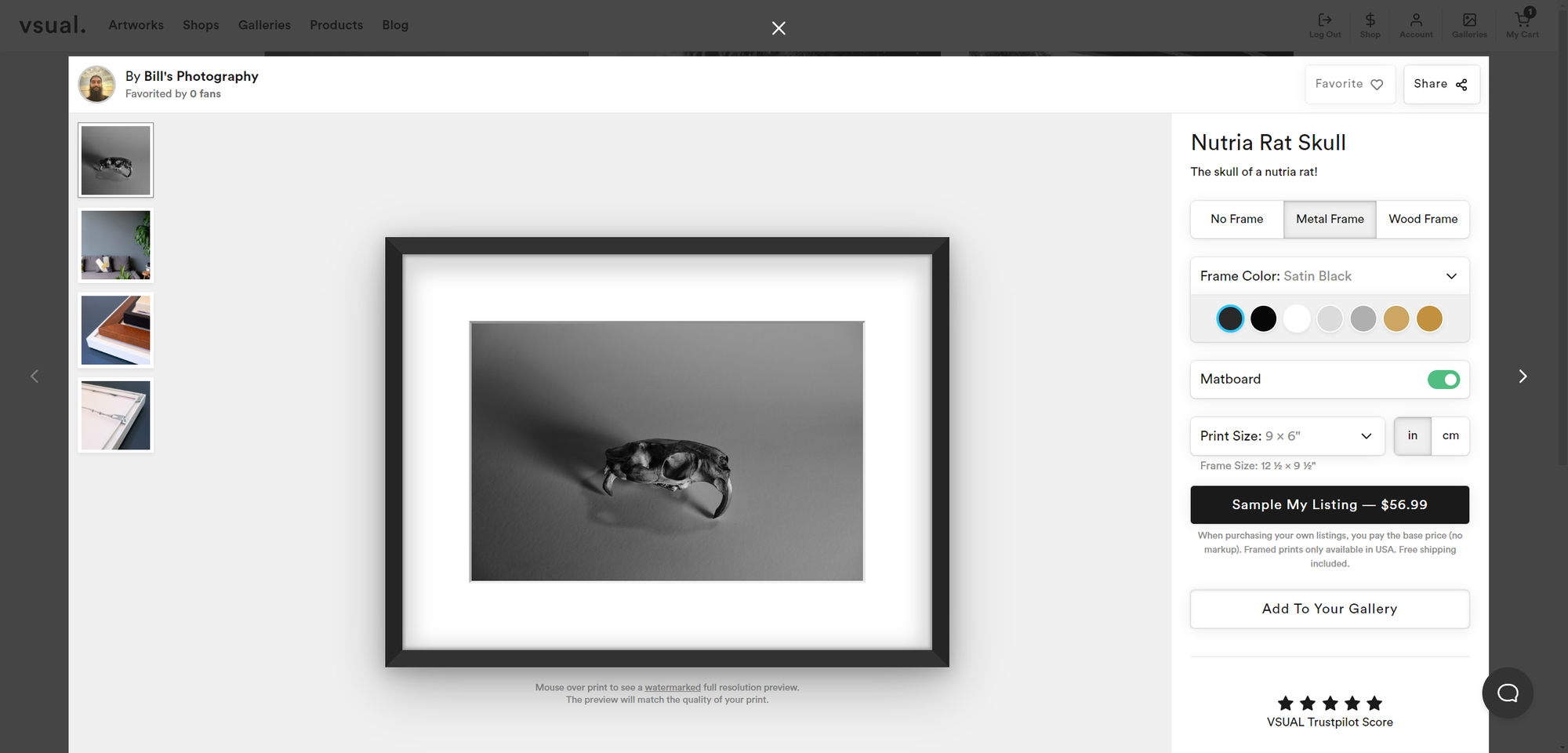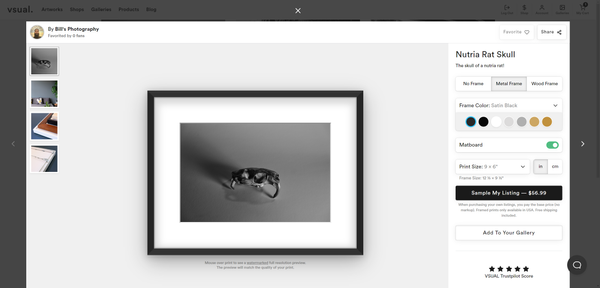 Vsual is one of the best print on demand sites for photographers. Back in 2020, I started spending a lot of time researching different print on demand websites because I wanted a place to create a free webshop for selling my photography as framed prints. I didn't like most of the POD services I found for various reasons.
So why compare Vsual with FineArtAmerica? Well, they both meet the criteria I had when looking for a solution to my problem. I compared them to tons of others like ArtPal and SaatchiArt, but Vsual and FineArtAmerica became my top two choices.
A secondary reason for this comparison is that I believe Vsual deserves more recognition in the print on demand space. If you are looking for the best print on demand sites, you should consider Vsual as an alternative to FineArtAmerica.
This was my desired criteria when comparing these print on demand services:
has more of a focus on wall art/framed prints, NOT a massive selection of different types of POD products like t-shirts, wall clocks, and water bottles
allows artists to create their own modern webshop with good design style
handles all print fulfillment, customer service, payment processing, shipping, etc.
EASY to use, no coding, web development, or advanced knowledge required
has a wide variety of framing options for clients
provides visual mockups of the artist's designs within frames, so the customer can see what the final product looks like
has custom branding features, allowing the artist to customize the look of their webshop to fit their brand
decent product pricing and fair artist/marketplace profit split
free signup is better, premium tiers and memberships costs suck
Vsual vs FineArtAmerica, Two of The Best Print on Demand Sites
FineArtAmerica is one of the most popular POD marketplaces for artists selling wall art. All of these print on demand websites have pros and cons, so I'm trying not to be biased. FineArtAmerica has much more web traffic than Vsual, which is their biggest advantage in my opinion.
Traffic Comparison
Web traffic is one of the most important factors when trying to find the best print on demand sites. These are their SimilarWeb Rankings at the time of writing this article. Lower number ranks are better, it means MORE traffic, so more eyes on your art. Example: Google.com is ranked #1 for the most web traffic in the world.
FineArtAmerica traffic rank: 7,418
Vsual traffic rank: 1,430,084
Free vs Paid Membership
FineArtAmerica was started around 2007, while Vsual was started around 2019. I created a FineArtAmerica account in 2015 but didn't sign up for their premium tier or start uploading photos until years later. If you look at their membership plans, you can see that the free tier is almost useless because it only allows you to upload 25 files to your shop.
FineArtAmerica signup fee: 30$ per year
Vsual signup fee: FREE
File Size Limitations
To upload unlimited art to FineArtAmerica, you are forced to pay 30$ per year. I know this doesn't sound like much, but there are so many print on demand sites that are FREE. I signed up for the premium tier to test it out. After uploading about 40 photos I started to realize that some of my photos couldn't be uploaded due to their 25 MB file size limitation.
FineArtAmerica file size limit: 25 MB
Vsual file size limit: 50 MB
Printing large wall art requires large file sizes. I wasn't willing to sacrifice large print quality to meet FineArtAmerica's file size requirement. Some of my larger files are around 30 MB. I haven't run into this file size limit issue with any other print on demand companies. I ended up canceling my FineArtAmerica premium account and going in a different direction.
Website Design
When it comes to design, Vsual wins again. FineArtAmerica has an outdated look. Vsual looks modern, offers more branding/customization options, and has a much better layout/interface than FineArtAmerica. The overall design was one of my top priorities when searching for the best print on demand sites.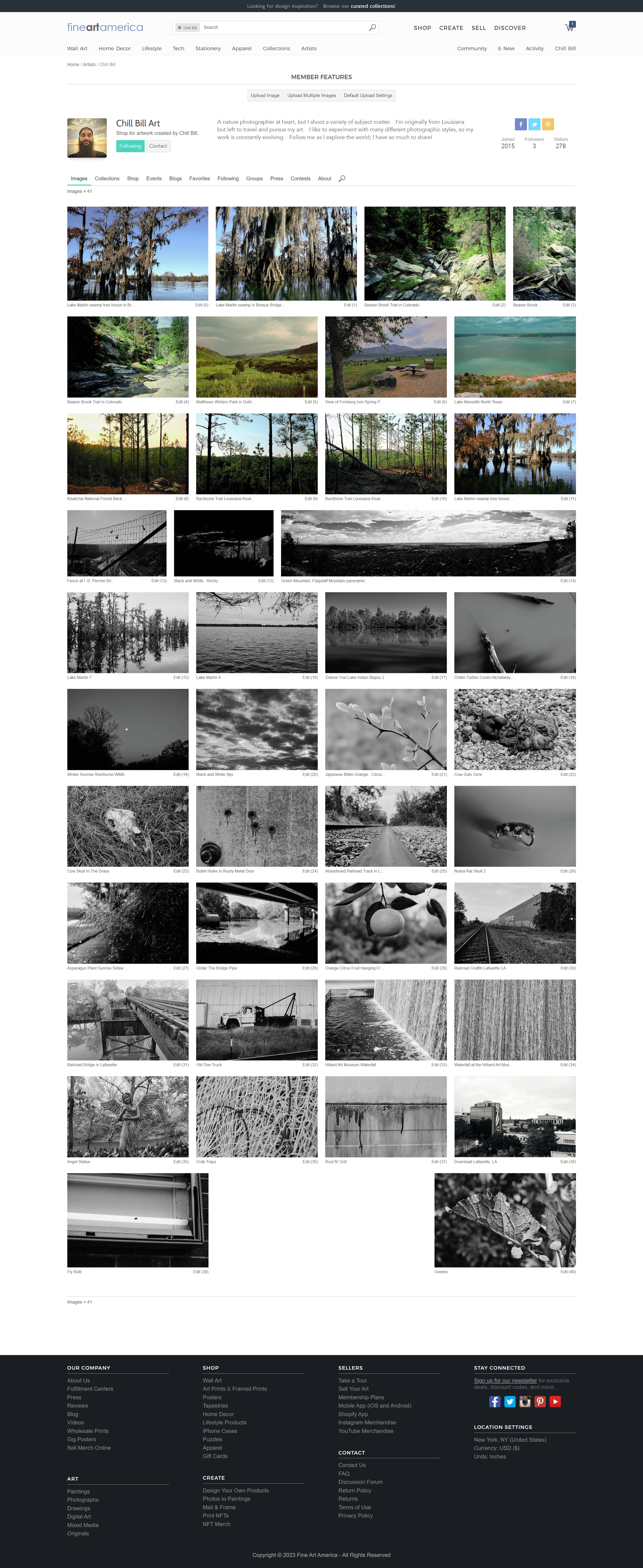 Print Markup
With Vsual, the default artist markup is 30%. You can adjust the markup to make it higher or lower, but the max artist profit per print is 100$ which is unfortunate. Although I think Vsual is one of the best print on demand sites, this profit limitation doesn't sit right with me. Vsual has a markup preview tool here.
FineArtAmerica works similarly by allowing you to set your own markup to whatever you want. However, they have the advantage here because they don't have the max 100$ artist profit per print rule like Vsual.
Popular artists selling expensive prints would get much more of a profit margin on FineArtAmerica. At the same time, I feel like if your art is extremely popular and you are selling prints for 1k+ then you wouldn't even be considering POD websites like these because you would have your own website connected directly with a print fulfillment service API.
Print Pricing
| | FineArtAmerica | Vsual |
| --- | --- | --- |
| Print Size | 10.00" x 6.50" | 10.5" x 7" |
| Framed Size | 15.50" x 12.00" | 14" x 10.5" |
| Price w/o Artist Markup | $64.00 | $63.00 |
| Shipping | $7.95 | Free |
| Total Price w/ Shipping | $71.95 | $63.00 |
| | FineArtAmerica | Vsual |
| --- | --- | --- |
| Image Size | 24" x 36" | 24" x 36" |
| Framed Size | 41.50" x 29.50" | 39.5" x 27.5" |
| Price w/o Artist Markup | $226.00 | $180.00 |
| Shipping | $37.95 | Free |
| Total Price w/ Shipping | $263.95 | $180.00 |
Framing Options
FineArtAmerica offers a huge variety of frame types, frame colors, matboard colors, and paper types. Vsual only offers a metal frame with 7 different color options and a wood frame with 5 different color options. Vsual doesn't offer matboard color options or paper options. FineArtAmerica is the better choice here if framing options are an important factor in your decision.
Framed Print Production Times
FineArtAmerica Production Time: 3 - 4 Business Days
Vsual Production Time: 7 - 9 Business Days
Conclusion
This is a tally of all of the comparisons I've made between Vsual and FineArtAmerica. Personally, I would choose Vsual over FineArtAmerica. However, it's a hard decision and what you choose should be based on what factors are more important to you.
| | FineArtAmerica | Vsual |
| --- | --- | --- |
| Traffic Comparison | Winner | |
| Framed Print Production Times | Winner | |
| Framing Options | Winner | |
| Print Markup | Winner | |
| Free vs Paid Membership | | Winner |
| File Size Limitations | | Winner |
| Artist Webshop Design | | Winner |
| Print Pricing | | Winner |
| Score | 4 | 4 |
Print on Demand Automation
Ultimately I ended up going in a completely different direction with my print on demand strategy. Instead of finding the ONE marketplace for me, I started using automation to upload to multiple POD marketplaces just like I do with my microstock work. This shotgun approach saves time and increases potential profit. You can subscribe for free if you want to receive an email alert when I release my upcoming article on POD automation.
Advertisement