Podlify Review - One of the Best Print on Demand Automation Tools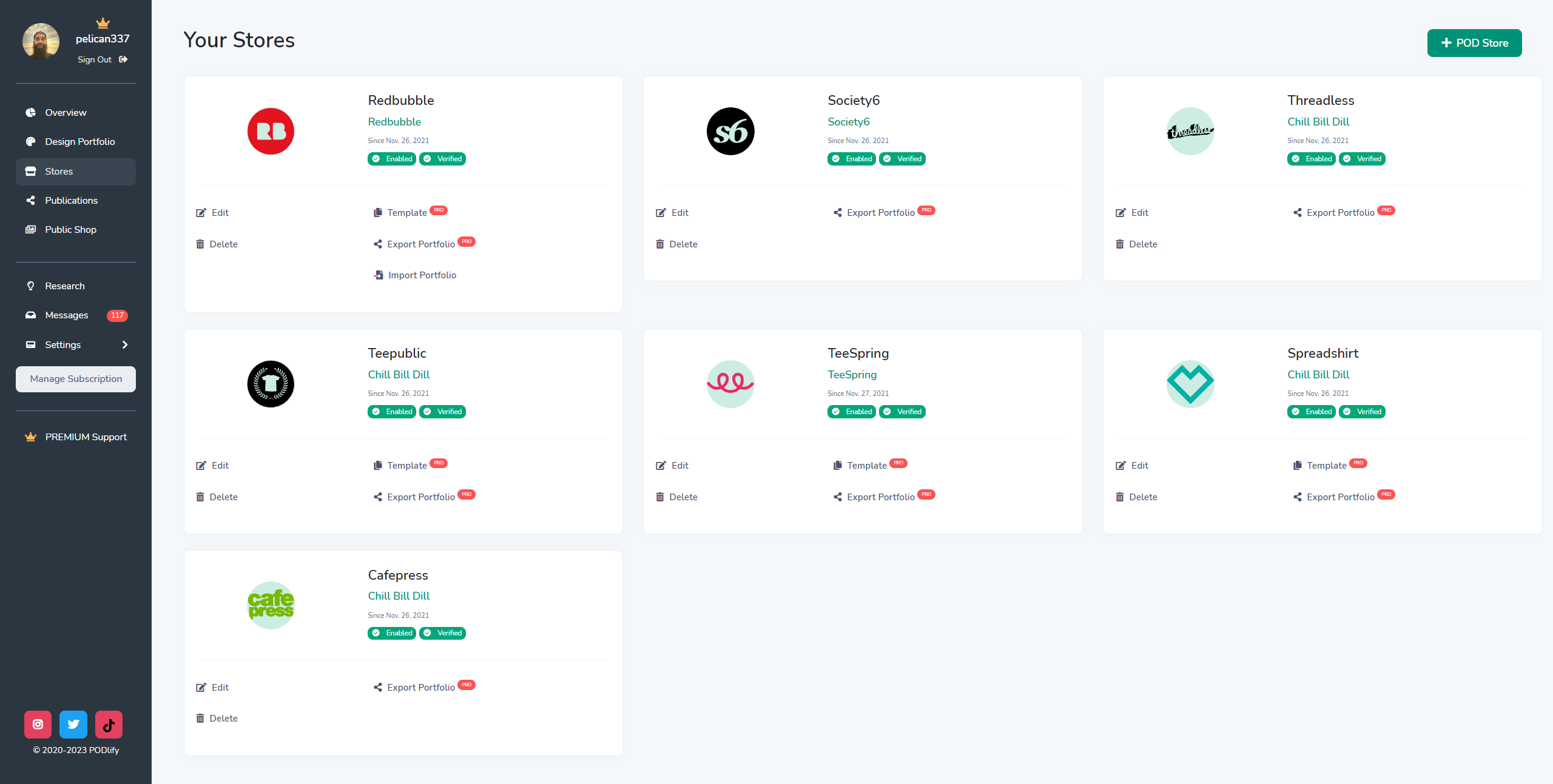 I originally originally wrote about PODlify back in 2020, this was one of my very first blog posts here. So I recently decided to revisit it so that I could write a review on this wonderful print-on-demand tool. With its unique Redbubble portfolio import/export feature and multi-marketplace user shops, PODlify stands out from the competition. This is one of the best print on demand automation tools.
Best Print on Demand Tool
One thing that stands out to me about PODlify is how easy it is to use compared to other print-on-demand tools like FlyingUpload. While FlyingUpload takes a fair amount of configuration, PODlify just works straight out of the box. With FlyingUpload, I had to spend hours troubleshooting failing uploads. With PODlify, I had no such issues.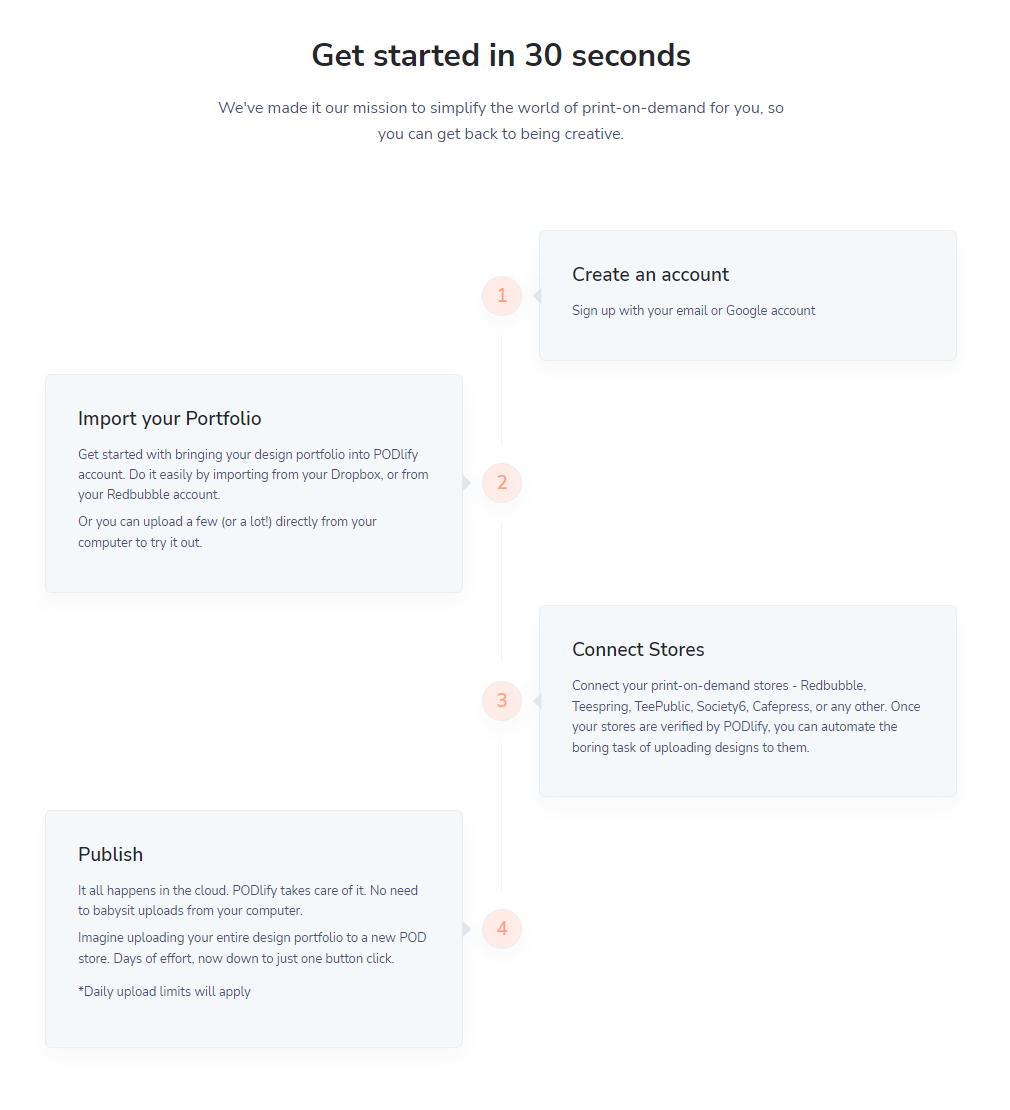 Print-on-Demand Artists Shops
Another feature that makes PODlify one of the best print on demand tools is the personalized artist shop pages. These act as portfolio pages for all of your print-on-demand designs, with links to all of the marketplaces where people can purchase your art. The page includes links to all of your social media accounts as well, essentially acting as a hub for your entire POD business. Here is my PODlify artist shop.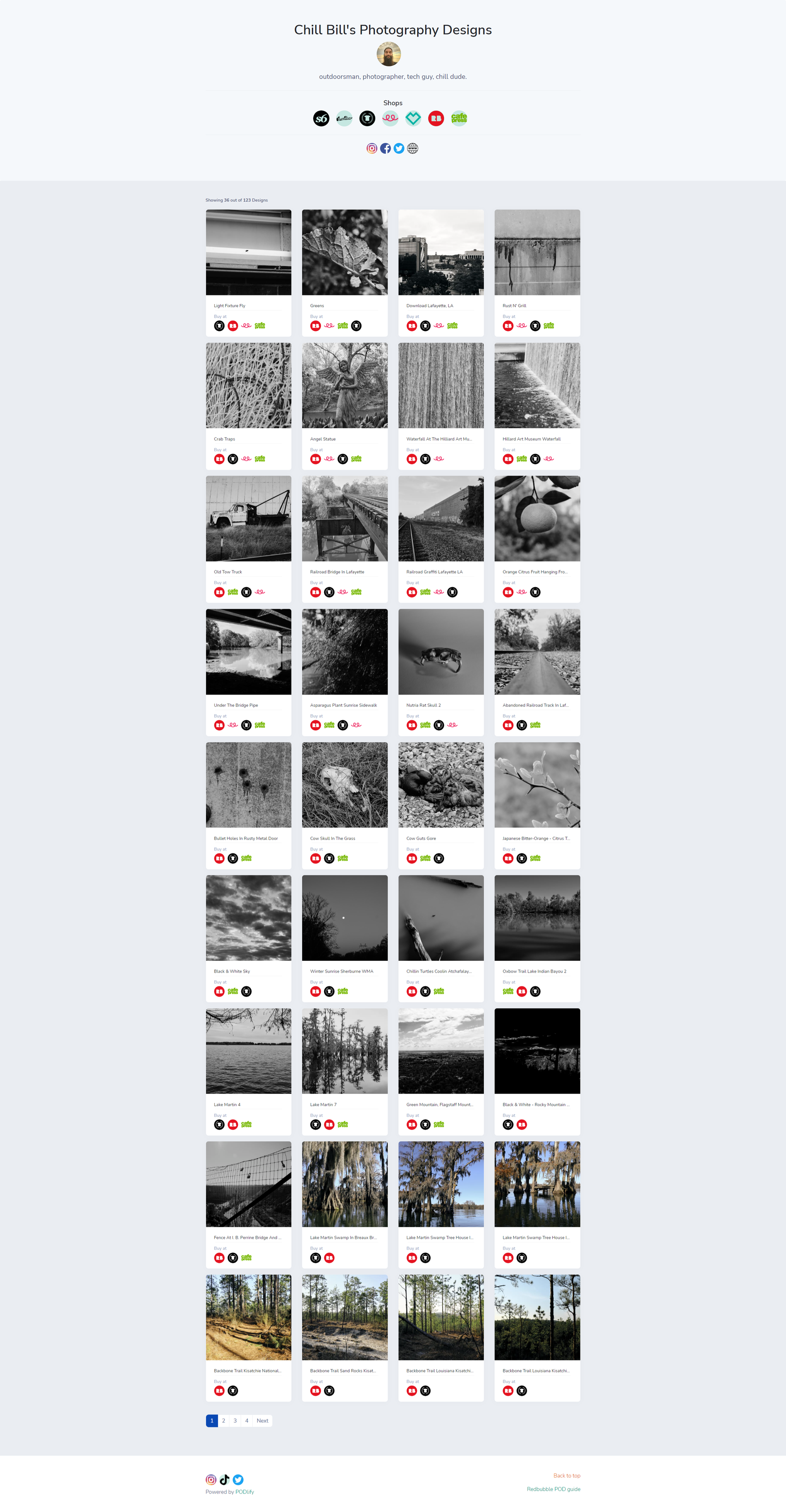 Easier than Building A Website
These artist shops at PODlify are much easier to set up than the alternatives. Most artists do not want to spend the countless hours it takes to build a WordPress website, set up WooCommerce, and connect it to POD providers like Printful. PODlify is a great way to get a simple portfolio page up quickly, without the hassle of having to learn how to be a web developer.
Cloud-Based Print-on-Demand
PODlify's cloud-based print-on-demand model makes many things easier for artists who prefer working with cloud technology. Losing your art sucks, so many artists prefer to keep their work in the cloud instead of storing their stuff in portable hard drives that often fail or get stolen.
Their Dropbox import feature is great for artists who keep their work saved in the cloud with Dropbox. This allows them to quickly send all of the stored art out to all of the major print-on-demand marketplaces with the power of automation.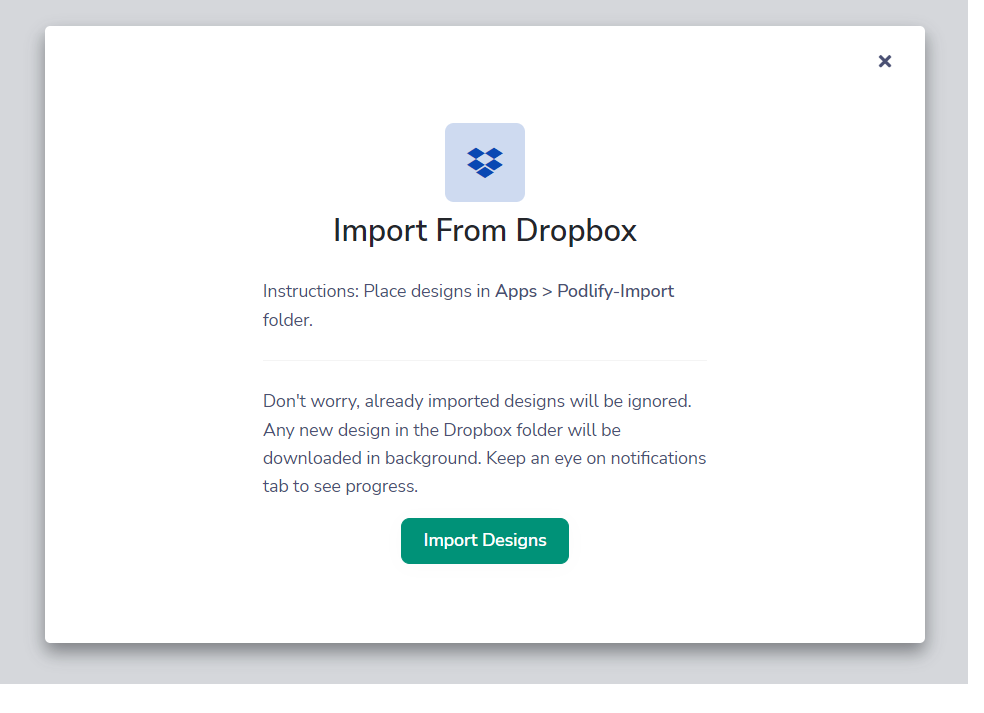 Redbubble Portfolio Import/Export
Redbubble is the biggest POD marketplace on the web, so it's common for artists to use Redbubble as their main or only POD hub. Many artists have hundreds or even thousands of designs uploaded to their Redbubble shops.
PODlify makes it easy to import your entire Redbubble portfolio into your PODlify shop, then export all of your Redbubble designs to the other marketplaces with the click of a button! Your artwork goes from being on ONE marketplace to being on SIX, giving you thousands of more eyes on your work.
This saved me countless hours of labor compared to doing it manually. No other POD tool that I know of has this feature, so this makes PODlify one of the greatest in my eyes.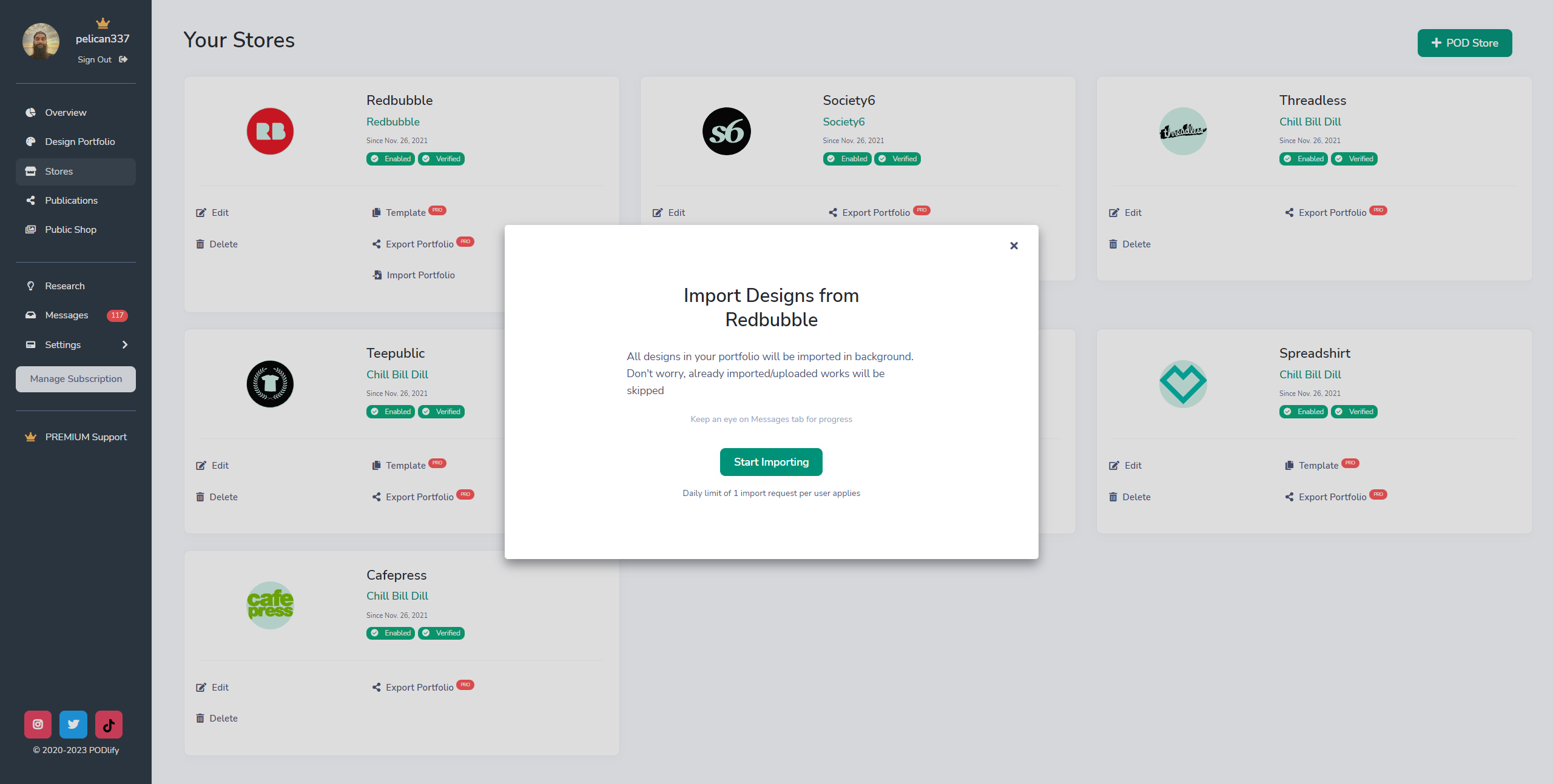 Print-on-Demand Automation & Marketplaces Supported
Using the power of automation is extremely important if you want to be successful in the world of print-on-demand. PODlify helps photographers and other artists make more money and save more time. From one interface, you can automate the entire POD uploading/submission process. Don't spend countless hours jumping between all the different marketplaces. Use PODlify to send your art to RedBubble, Society6, TeePublic, TeeSpring, Spreadshirt, and CafePress!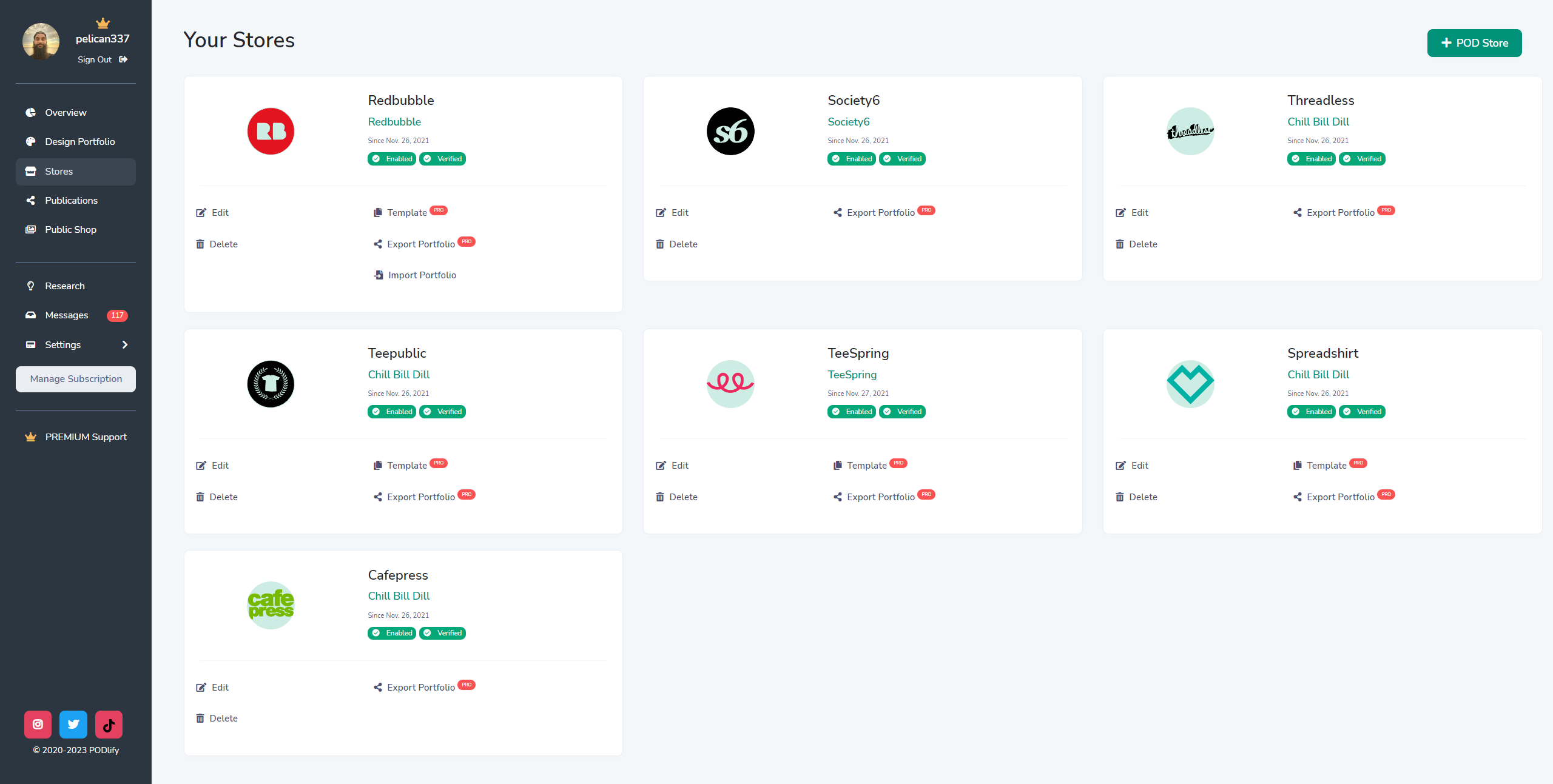 What I Would Like to See at PODlify
I would like to more supported marketplaces in the future. Marketplaces like Zazzle, FineArtAmerica, and Merch by Amazon. This would help artists expand their reach, allowing automated uploading to even more websites.
Another thing I would really love to see at PODlify is expanded artist shop features. Features such as custom domain names, featured products, and artist contact forms. With PODlify being one the best print on demand automation tools out there, I could easily see it expanding its features.
Plans & Pricing, Discount Code
PODlify has a free tier that allows 5 uploads per day, which is a great way to test out the platform to see if it fits your needs. Then they have a pro and premium tier that add more functionality and higher daily upload limits. Here is a screenshot of their pricing below. You can visit the PODlify website to find out more.
Use my special discount code "ChillBill" at checkout to receive a 20% discount for the first 12 months of any pricing tier!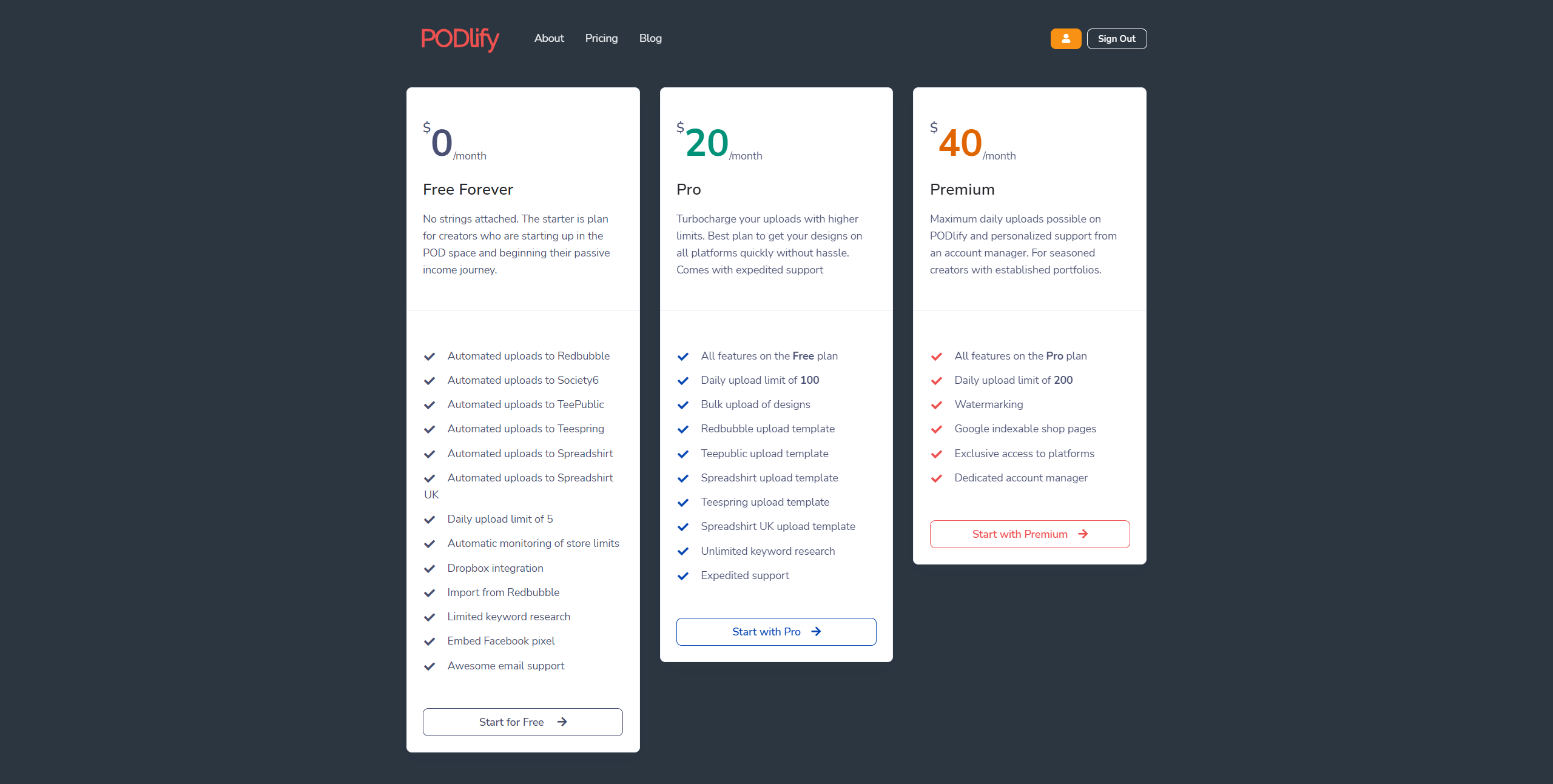 Advertisement