Free Print on Demand Website Builder, Square Online Store, Best Shopify Alternative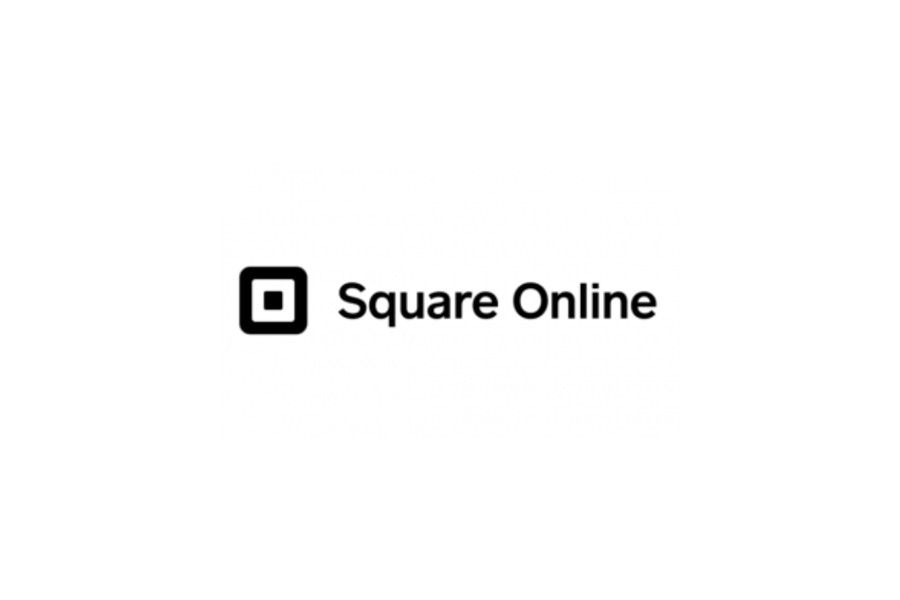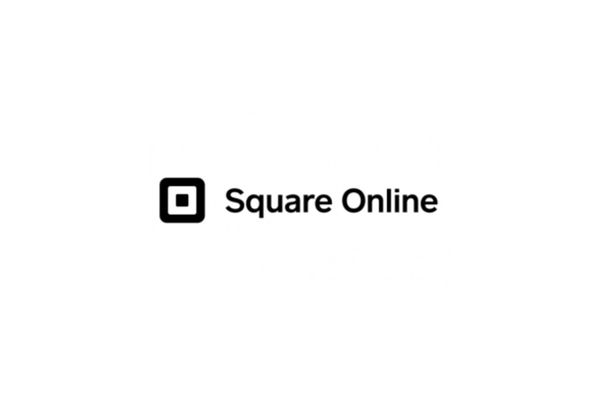 Intro
I've recently created a new online store to display and sell my photography via print-on-demand dropshipping. This is how I used the new Square Online Store with POD integration via Printful to set up my ecommerce website. My customers get sent high-quality framed prints without me having to do any of the framing, shipping, or inventory management. It's a great alternative to Shopify, and it's super easy to use.
Want to see an example of what your website with Square Online can look like? This is my Square Online store. You can create the same type of online store for free. You can also view it as a screenshot below: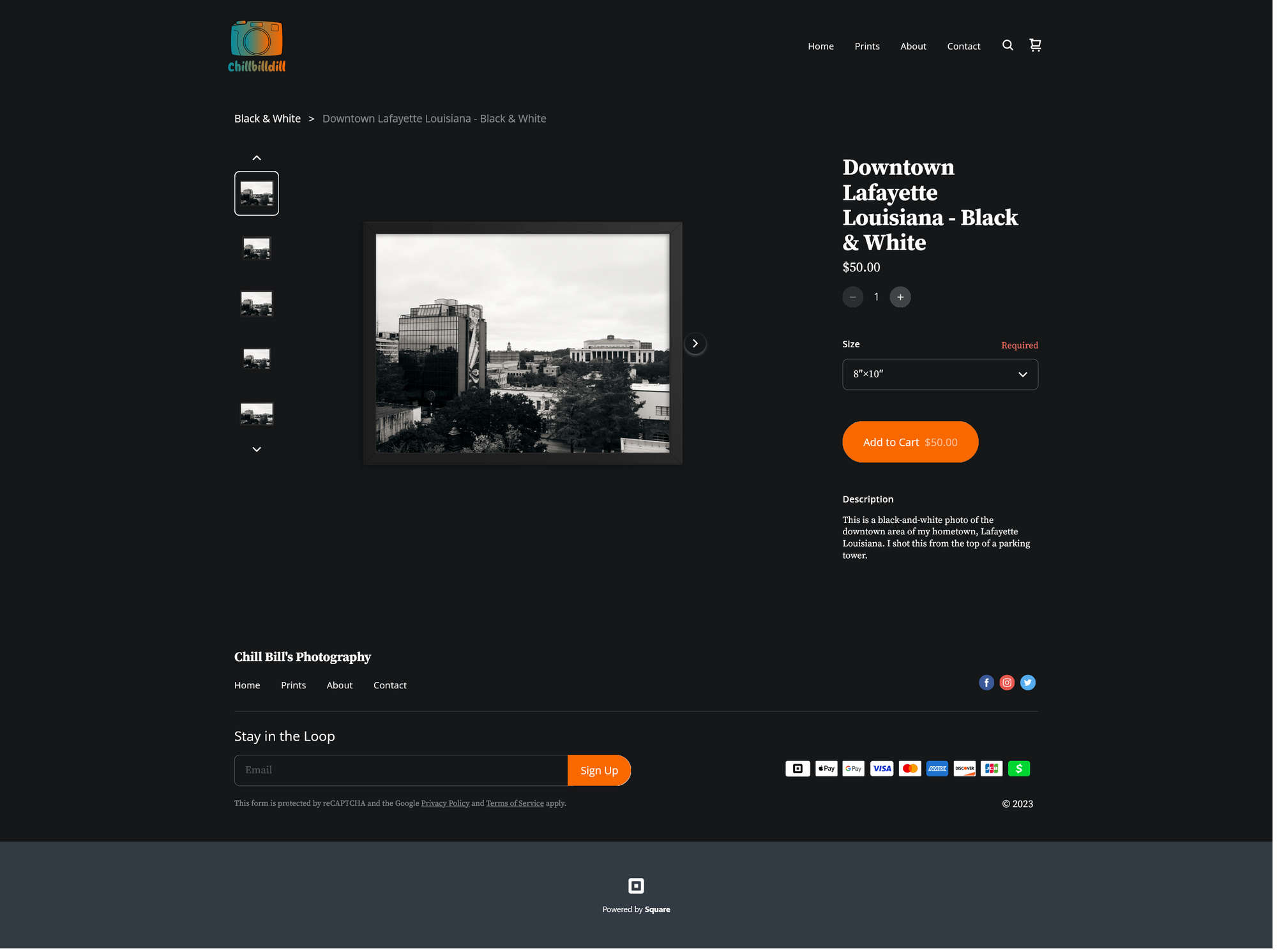 What is Square
Square is a payment processing platform that allows people to accept credit and debit card payments. With its easy-to-use interface and affordable pricing, Square has become a popular choice for small businesses and entrepreneurs. Square offers a variety of features, including customizable point-of-sale systems, online payment processing, and invoicing. It also provides analytics tools to help businesses track sales and customer data. Square prides itself on its transparent pricing, with no hidden fees or long-term contracts. Overall, Square is a reliable and convenient payment processing solution for businesses of all sizes.
What is Square Online Store
Square's new online store builder is a powerful tool that allows people to easily create and customize their own online store. With a user-friendly interface, you can quickly set up a store and start selling online. The online store builder offers a variety of features, including customizable templates, product management tools, and secure payment processing. Square's online store builder is a good solution for people looking to sell their art online.
Free Shopify Alternative
So why is this new Square Online Store a good alternative to Shopify? Well, Shopify costs 39$ per month, while Square Online is FREE. Most artists aren't making a ton of money with their art, so this is simply a better way to get started. Shopify is much more feature advanced than Square Online Store, but most artists don't need all of these fancy features. All of the additional features increase the learning curve of Shopify, while Square Online Store keeps it simple.
There is a paid version of Square Online Store, but the free version is good enough. The main benefit of the paid version is the ability to use a custom domain. In the free version, you get a free subdomain yourname.square.site. In the paid version, you can use something like yourname.com. However, if you already own the domain yourname.com, you can go to directly your domain registrar (NameCheap is good) and change the DNS settings to forward your custom domain yourname.com to your free yourname.square.site domain.
Note: You will want to avoid using a masked redirect, as this is bad for SEO. It's better to use a 301 or 302 unmasked redirect. I would recommend the 302 (temporary) redirect. If you decide to upgrade to Square's paid plan later, then you can remove the forward and point the domain to Square's nameservers.
My custom domain https://chillbill.photos forwards to my free Square subdomain https://chillbilldill.square.site. This makes your marketing appear more professional. The shorter custom domain is easier to remember than the longer subdomain.
Another downside to the free version of Square Online is the Square branding in the footer of your website. This wasn't a deal breaker for me. If your store ends up doing well, you can always upgrade to the paid plan later, thus removing the Square branding. Shopify doesn't offer any type of free plan, only a special 3-month introductory rate of 3$, then full-price after.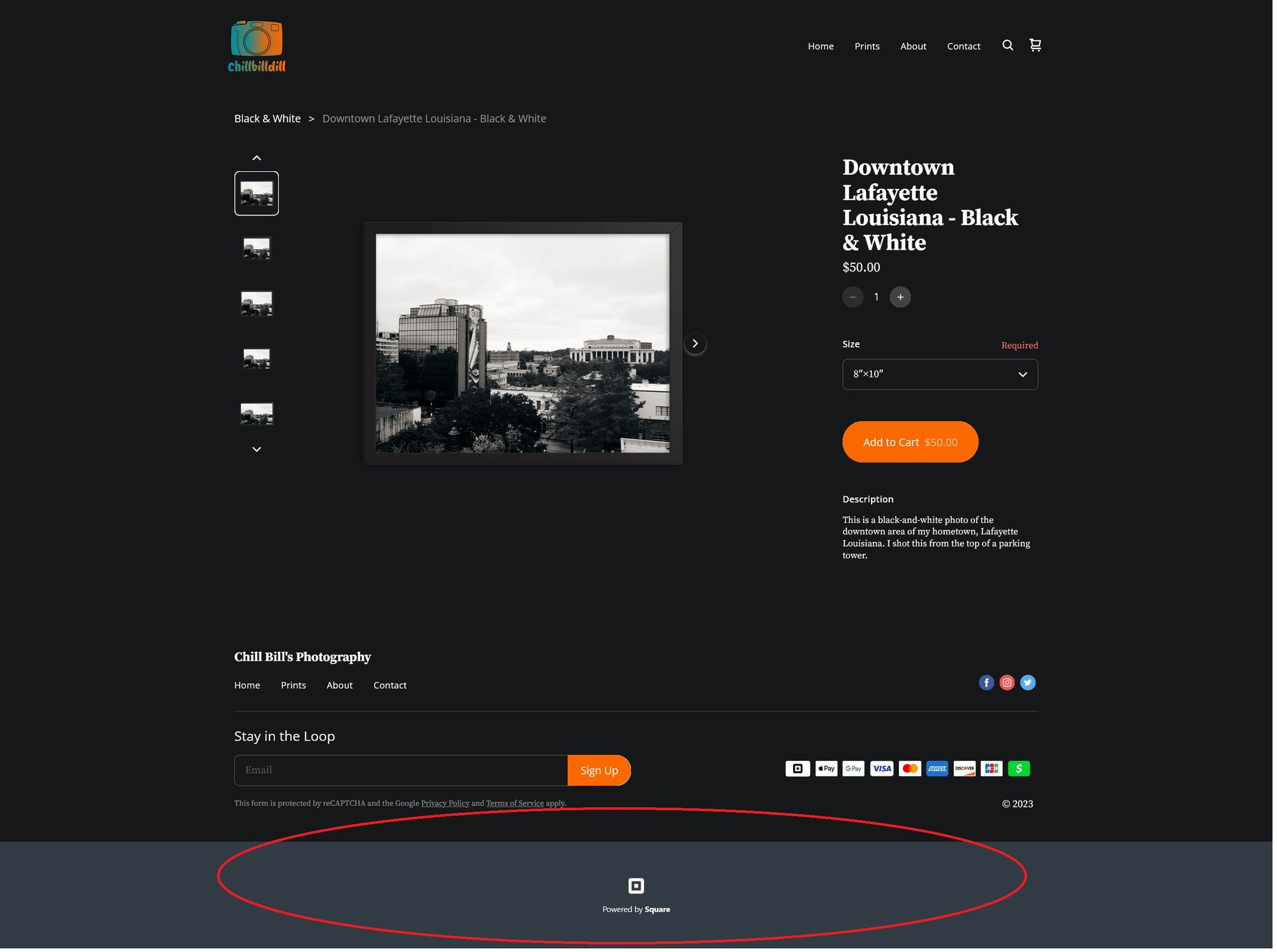 | | |
| --- | --- |
| Square Online Store | Shopify |
| Monthly Price: FREE | Monthly Price: 39 USD |
| Payment Processing Fee: 2.9% + 30 cents | Payment Processing Fee: 2.9% + 30 cents |
| Unlimited Products | Unlimited Products |
What is Printful
Printful is an online service that enables individuals and businesses to sell products online without the need for a physical brick-and-mortar store. With Printful, users can have their art automatically printed and shipped to their customers. The platform provides a wide range of products, including apparel, accessories, and home decor items, which can be customized with various design options. Printful helps individuals and businesses tap into the growing market of online sales by providing a convenient and efficient solution for selling products without the hassle of inventory management or shipping logistics. With Printful, anyone can easily start an online photography print store and reach a global audience.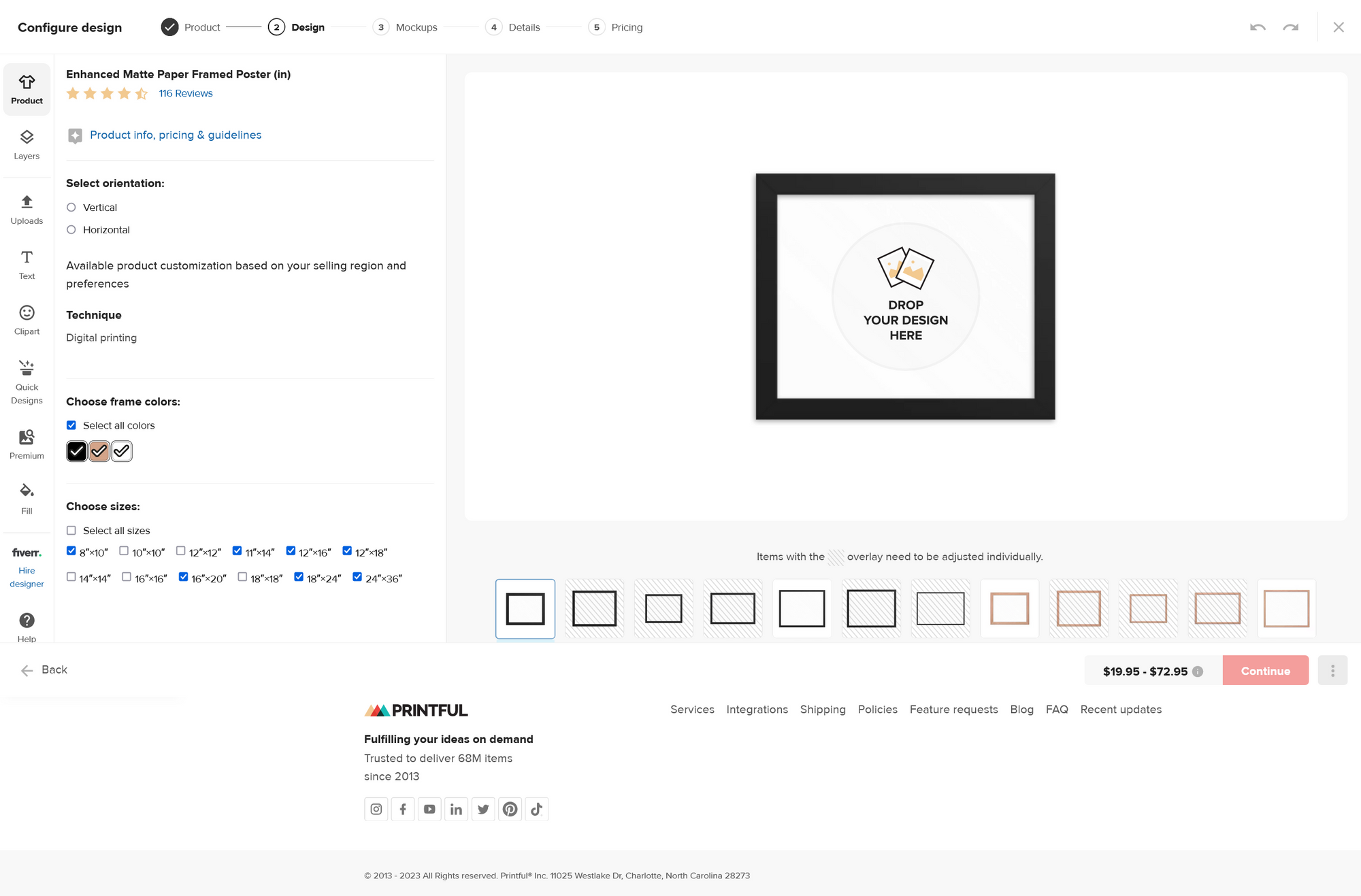 Printful and Square Integration, Dropship Framed Prints via Print-on-Demand
Printful and Square have worked together to create a streamlined connection between their two platforms. This works by connecting your Printful and Square accounts together. When someone buys a framed print of your art, Square processes the payment and forwards the order information to Printful. Printful then prints and frames your photography. After the framed print is ready, Printful ships it to your customer. This white-label dropshipping service is extremely convenient for the photographer, it allows you to step back and focus on your art. There is no upfront inventory cost, as everything is done on demand.
Why Not WordPress + WooCommerce Instead?
WordPress & WooCommerce are great, but they have a much steeper learning curve. I love the open-source movement, and creating your online print store with WordPress is not a bad idea. However, I feel like most people would be better off using something like Shopify or Square Online. WordPress is powerful, but also confusing for people who aren't tech-savvy.
Shopify and Square Online are specifically designed for e-commerce, while WordPress is designed to adapt to endless use cases. WordPress becomes harder to maintain as your website grows, plugins start to cause conflicts with each other and you will often find yourself debugging errors. Another consideration is hosting. With Square and Shopify, they provide good hosting within the platform itself, this way you don't need to do tons of research on finding and selecting a hosting company.
| WordPress & WooCommerce & Printful | Printful & Square Online |
| --- | --- |
| Skill Level: Advanced | Skill Level: Easy |
| Time to Create: Extensive | Time to Create: Quick |
| Monthly Price: Varies by Hosting | Monthly Price: Free |
How to Launch an Online Store for Your Art Prints with Square Online
1. To build your art print store using the Square Online website builder and with Printful integration, the first thing you need to do is create an account on both platforms if you haven't already.
Printful: Create a Printful Account
Square: Create a Square Account
2. From your logged-in Square dashboard, click "Online" to get the "Sites" area and press the button to create a new site. Next, you need to follow Square's prompts to create your store.
Square: Get Started with Square Online
How to Integrate Printful with Your Square Online Store
3. Link your Square and Printful accounts. You can do this in the apps area of your Square Online dashboard, and under the "Stores" section of your Printful dashboard. This enables both Square and Printful to communicate and automate the order flow as your clients buy prints of your work.
Square: Link Account to Printful
Printful: Link Account to Square
How to Add Products to Your Photography Print Store
4. After your two accounts are connected, you will see your Square Online store listed in the "Stores" area of your Printful dashboard. Click your store and press "Add Product". This is where you can upload your photos and create products like framed prints, canvas prints, or metal prints. The products will automatically sync for important into your Square Online website.
Square: Adding Items
5. Head back over to your Square Online Store dashboard and click "Items -> Site Items". Click the button in the top right that says "Add from Item Library", this is where you will see your Printful product(s). Click to add the product(s) to your Square inventory.
Square: Adding Items from Library
Final Steps to Launch Your Online Store
6. In your Square Online dashboard, create a shipping profile. If you don't do this, all of your products will be displayed as "unavailable".
Square: How to Set Up Shipping Profile
7. Link your payment details with Square so that you can be paid. You will need to put in your bank account information so that they can wire you money when you sell prints.
Square: Link & Edit Your Bank Account
8. Link your payment details with Printful, this way you can pay for your prints to be made and sent to your customers after they place an order in your store.
Printful: How to Add Billing Details
8. That's it, now just finish designing your site within Square's website builder. You can run a test order to verify everything is working. The store is easy to maintain, all you need to worry about now is adding more products and marketing your site. Square has some built-in tools to help you with marketing. I highly recommend taking advantage of the e-mail subscribe feature, this will allow you to build a mailing list of your potential customers.
What about Selling Prints at Art Galleries, Brick-and-Mortar Shops, and In-Person?
One thing I really like about Square is that you can also sell your prints at places like art galleries, coffee shops, or art festivals. Square has an app for mobile devices that lets you accept payments in person. This app is connected to your Square account, this way both your online and in-person sales are connected to the same system. This makes things like sales tracking and taxes so much easier. Square will even ship you a free credit/debit card reader that connects to the aux port on your mobile phone.
Outro
Square's easy-to-use website builder is a great way to build a free store, helping you to get your art online quickly. If you have used this method to build your site, share your website URL in the comments below. If you need any help, post your question in the comment section below. If you enjoy this type of content, you can subscribe below to get monthly emails with tips on making passive income with your photography.